Our mission....
Dedication: To work dedicatededly for the excellent Customer Service delivered with a sense of warmth, friendliness, individual pride, and Company Spirit.

Value-added - To provide high quality Human Resources services through value-added and innovative initiatives focused.

Integrity - To provide High Quality, Cost Effective HR Consulting Services to all employees.

Company overview
Satyam Management Consultants is core Business Partner to corporates providing Recruitment solutions & HR services from a decade.

Our service philosophy .....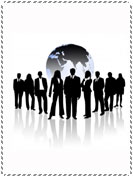 We are strategic partners in building businesses by maximizing the value of human capital and aligning it with company initiatives, values, strategies and the needs of all stakeholders.

To Create and maintain a foundation which will enable us to promote the development, the involvement, and the retention of its employees to ensure customer satisfaction.